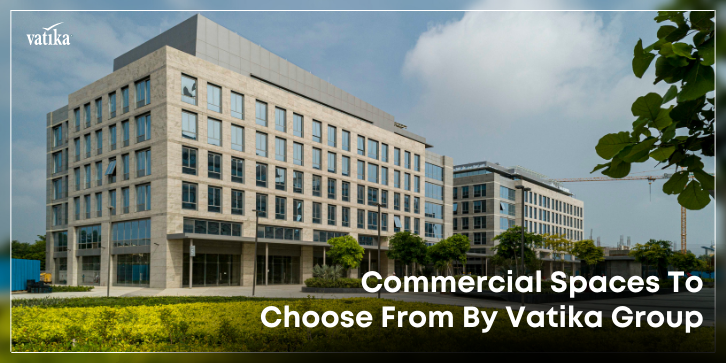 Vatika Group is one of NCR's leading real estate developers today, and with that title, we hold the utmost pride in providing only the most premium commercial spaces in NCR. We believe in consistently raising the bar with quality innovations that enhance society's lifestyle. Following this, we have bought you three prime commercial projects to visit: Vatika 44, One On One, and INXT City Centre.
Each of these commercial campuses is excellently located on important roads, at prominent intersections, in close proximity to metro stations, or at prime spots in established and emerging commercial areas. This provides quick and easy accessibility to your employees and clients, as well as added prestige to your business.
Sustainability and low environmental impact are core values at Vatika, and these are incorporated into Vatika projects right from the design stage. Several of our projects have received recognition from regulatory bodies, including the coveted LEED Gold Standard for INXT City Centre and 4-star GRIHA certificate for One On One. The complexes are aesthetically designed and landscaped with a focus on energy conservation and space maximization to keep your operating overheads low:
Vatika workspaces have a cheerful and friendly environment. There is ample natural light, open space, recreational areas and parking in all buildings. Plush lobbies impart a feeling of arrival. Vatika properties receive top-class maintenance from Enviro – Vatika's own facility management arm with over 15 years of experience in this field. Here are some of Vatika's premium commercial campuses at key locations in Gurgaon
Vatika 44 is the perfect synthesis of location, design and efficiently planned office spaces. . The commercial campus is located at Sector 44, Gurgaon, close to the Huda City Centre metro station. The 1 lakh sq ft project is easily accessible by the three peripheral roads (18m and 12m wide).
The complex is aesthetically designed and landscaped with a focus on energy conservation and space maximisation. Vatika 44 comprises two Ground +5 office blocks of approximately 54,000 sq ft each. Floor plates are efficiently designed, starting from 8,500 sq ft.
The offices are designed around the side cores of the building. This ensures ample natural light with good surrounding views. Additionally, they are equipped with an energy-efficient glazing system to reduce heat and glare.
The complex offers state-of-the-art facilities including VRV air-conditioning, 100% power back-up, high-speed elevators and multi-level security. Welcoming lobbies will enhance the arriving experience of your clients and guests.
Architectural lighting will improve the usability and footfalls of the complex. Availability of parking has become an important determinant in the attractiveness of commercial areas. Adequate parking spaces are provided in the two dedicated basement levels.
One On One is one of the most prestigious business address by Vatika Group. It is located in Sector 16, Gurgaon on main NH 48, near the Westin Hotel. Visitors will enjoy its close connectivity to IGI airport via a 16 Km single free drive.
The sprawling 2-acre central landscape pizza is the vibrant nerve centre of the commercial campus. The piazza has been designed by the prestigious HM White of New York with pavilions and water bodies.
There are six independent blocks with a 1.6 mn sq ft area. Granite-clad facades and energy-efficient glass are used to reduce heat transmission while maximising light penetration. Advanced energy conservation measures such as LED lights, use of renewable energy, reduced heat gain etc., will lower the operational cost.
The state of the art office spaces has a floor plate size of 25000 sq ft, with a floor layout that ensures optimum space utilisation with zero wasted space. The three basements of the building have ample parking space to accommodate 25,000 cars.
The occupation certificate for towers 2, 3, 4 and 5 in Phase 1 and the prestigious 4-star GRIHA certificate have been received.
The INXT City Centre is a distinguished business address by the Vatika Group, strategically located at the intersection of NH 48 (Sector 83) and Dwarka Expressway (NH 248BB) in Gurgaon. And this also constitutes a part of the Vatika India Next Township (INXT) project where 2,00,000 residents are enjoying blissful living.
The 1 million sq ft commercial campus enjoys quick access from the IGI airport via 25 min signal-free drive. All amenities and residential zones are in the vicinity, which opens up exciting possibilities for entrepreneurs, executives and professionals who have the option of living close by and walking to an office every day. Pedestrian connection to the Hyatt Regency Hotel is another notable aspect.
INXT City Centre is a Gold LEED-certified commercial campus of six low-rise office towers designed around a central landscaped urban plaza.
Each independent tower is about 1,45,000 sq ft in area, with a floor plate designed for maximum space utilisation. Ground floors of all the buildings are equipped with restaurants, cafes, ATMs and banks to instill a sense of completeness in an office-goer's workday.
Offices spaces are designed for good views and provide adequate natural light. There is a pre-installed multilevel security system in each tower because Vatika Group believes in providing safety above all. The security operation will be maintained through a visitor management system, CCTV, and turnstiles. The basement will sufficiently park 1,500 cars at a time.
At Vatika, we don't just supply office space. We pride ourselves on providing the 'correct solution' for the needs of your business. We guide you through the possible options and conduct extensive cost-benefit evaluations to set up an office that is streamlined, cost-efficient and growth-oriented.