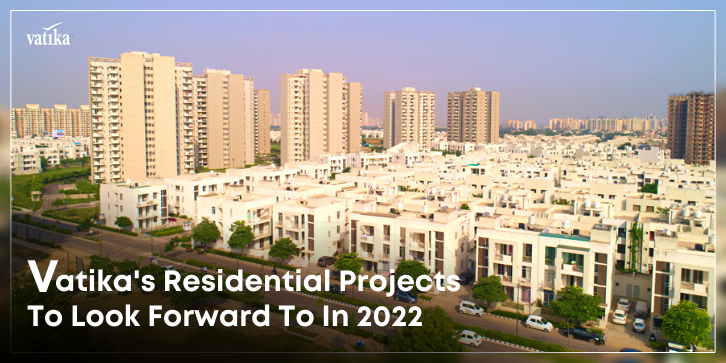 Vatika INXT
Vatika has redefined the face of new sectors of Gurgaon by developing a modern, self-contained township – Vatika India Next. Located at the intersection of NH 48 and Dwarka Expressway (NH 248BB), INXT enjoys an enviable location. Sprawling over 550 acres, the township offers blissful living to 2,00,000 residents. All facilities, amenities and infrastructure makes living at INXT pleasurable.
Let's take a look at upcoming residential projects in Vatika INXT:
• Located in Sector 82A, just 500m from NH 48
• Adjoining Town Square – A bustling retail complex
• Only 2 apartments per floor & 35 homes per acre
• Spacious and well-designed homes
• Landscape designed by Tierra Design Pte, Singapore
• High ceilings and doors with large balconies
• Luxurious finishes, wooden flooring and modular kitchen
• Schools, markets, restaurants & entertainment close by
• Handover commenced
• Low-rise floors with one unit on each floor
• Maximum usable area, additional utility area
• Activity terrace & large balconies
• Car parking under stilts
• Premium specifications, modular kitchen
Vatika INXT2
Vatika India Next 2 is being developed in Gurgaon's Sectors 88A, 88B and 89A. The 184 acres township is located at the intersection of Dwarka Expressway (NH248BB) and NH 352W (Pataudi Road) with proximity to NH 48. With wide open spaces, spacious residences, well-designed infrastructure and amenities, INXT2 will offer a wholesome life.
Let's take a look at upcoming residential projects in Vatika INXT2:
● Only one unit per floor, 3 levels with elevators & stilt parking
● Low-density, spacious and well-ventilated
● Green landscaped linear park on the rear side
● Gated community with 24X7 security & power back-up
● Handover commenced
● Located right on Dwarka Expressway (NH 248BB)
● Low-density with 2 apartments per floor
● Homes with unhindered views of greens and water bodies
● Designed by Arcop, Canada. Landscape designed by M. Paul Friedberg, New York
● 80% open area with extensive landscaped greens
● All apartments are park facing
● High ceilings, doors & large wrap-around balconies
● Dressing area in all bedrooms. Powder toilet in each apartment
● Premium finishes, modular kitchen, VRV air-conditioning
● Well-equipped gym, exclusive club, half Olympic size swimming pool, sports courts, fish pond, café & lounge, daily needs shops
● Low-density living with just 45 families per acre
● Connected by 3 National Highways: NH 48, NH 248BB and NH 352W
● 2.5 acres park, 80% open & green spaces
● High ceilings, spacious, sunlit and airy homes
● Dressing area & wooden flooring in all bedrooms
● Modular kitchen cabinets, VRV air-conditioning
● Retail shops within the complex
● 2 clubs, 2 pools, 4 kids play areas & 2 sports courts