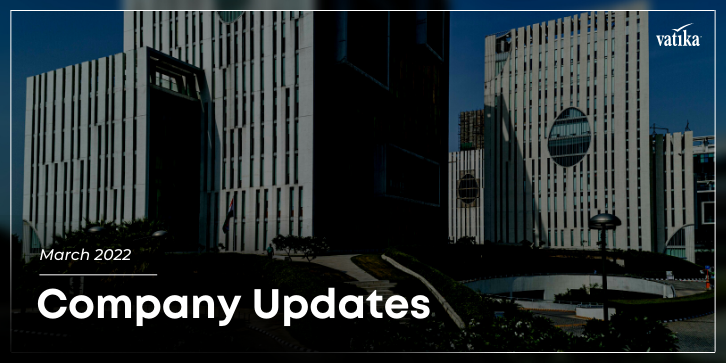 With a spotless record spanning 35+ years, the Vatika name stands for superior products & services and timely delivery. We have consistently delivered well-designed products and impeccable services across all our verticals. The company has strong fundamentals, and we have always stood apart and maintained excellence.
1. Corporate
a. A new company 'Vatika Estate Management & Leasing Services' has been created to manage leasing efficiently for more than 8,000 investors.
b. A mega event was organized to celebrate Occupation Certificate (OC) received for Phase 1 of One On One and the 4-star certificate from GRIHA for the project.
c. Vatika Group and MatriKiran collectively contributed life-saving ration items for hundreds of families at Harmony House, making their Diwali happy.
2. Township/Residential
a. Handover has commenced at Xpressions, low-rise floors with elevators and stilt parking are located in Sector 88B, Gurgaon.
b. Fully loaded homes are available at The Seven Lamps at Sector 82, Gurgaon. Now buy a home and move in without any hassles.
c. Kid's play area was inaugurated and a tree plantation was done by the Honorable Governor of Meghalaya, Shri Satya Pal Malik at Central Park, Vatika Infotech City, Jaipur.
d. Witness the grandeur of The Park Apartments at Vatika Infotech City Jaipur. A fully furnished sample apartment is now ready for viewing 5200+ clients have initiated construction on plots at Vatika City Central, Ambala and 130 houses are complete.
3. Commercial/Retail
a. We are proud to receive Occupation Certificate (OC) for towers 2, 3, 4 & 5 in Phase 1 and the 4-star certificate from GRIHA for the prestigious commercial campus, One On One in Sector 16, Gurgaon.
b. 2 Reputed companies like Callaway India, Streamsource Technologies, DEIF India, SPT Labtech, Isens Biosensors and Regi Cosmetics have leased space in Vatika commercial buildings. ISH has expanded 25,000 sq ft at INXT City Centre in Gurgaon.
c. Vatika has leased space to premium retail brands like Grofers, Chai Garam and Fab Café.
d. Two new premium commercial projects will soon come up in Gurgaon. Vatika 44 is ready for fit-outs and the construction of the Vatika Triangle Annexe is progressing swiftly.
e. Town Square 2 at Sector 82, Gurgaon is operational with brands like HYPE The Gym, Sodhi's Supermarket, Giani's, Meditest Diagnostic Centre, Vision Eye Clinic, Chai Garam, Mizzle Bakery, Care Pharmacy, Health Care Pharmacy, Makeover by Nazia, Ena's Kitchen, Green N Fresh, Tashan Salon, Sehat Chakki Aata, Pizza 79 and Chaubara. Athlete Gym will soon start fit-outs.
f. The ground floor has been cast at the prime retail Market Walk at Sector 82A, Gurgaon. Construction commenced at V'Lante, a one-stop retail destination at Sector 83, Gurgaon.
g. Exclusive retail hub at Seven Elements is ready for fit-outs at Sector 89A, Gurgaon. Work started on multi-purpose booths at Xpressions in Sector 88B, Gurgaon.
Contact us for a free site tour of any of our Residential, Retail & Commercial Projects.