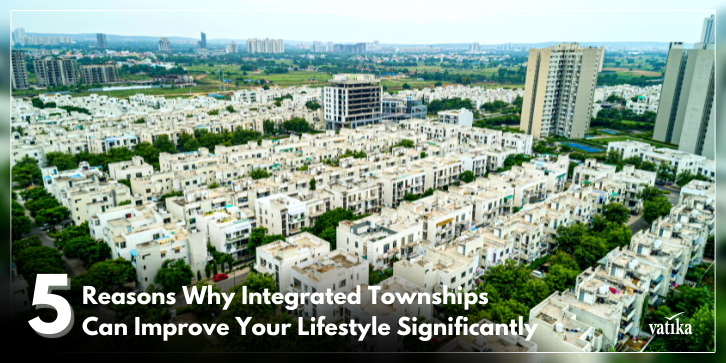 Integrated townships are high in demand and are found in the outskirts of busy metropolitan cities. The reason for such preference is because of the multifold benefits that they provide to home seekers. 
1. Abundance of Greenery
A standard feature is to have open green lands around the residence. In an integrated township, these green open spaces will allow for community-based rainwater harvesting, ground-water harvesting, as well as the ability to generate sustainable solar energy. 
2. Soaring Resale Values 
Integrated townships offer families to reside in peace. It surpasses the benefits of living within the city. In the past, these were never the number one choice for families due to their remoteness, lack of proper planning, and the lack of an integrated security system. 
However, the modern plans have reformed and re-invented them which allow every family to equally access all benefits. They have included a wide range of amenities that are also available in cities, like shopping malls, educational institutions, advanced health facilities, and newly constructed roads that makes integrated townships a better option.
Due to a hike in demand, residences within the township come with better resale value.  
3. Plethora of Amenities 
Contrary to popular belief that townships don't have half the amenities that metropolitan cities offer, these places have a wide variety of necessities as well as luxurious amenities. It is the perfect place for families. 
These townships have educational institutions for students, for medical-related emergencies, there are emergency hospitals and pharmacies within the township itself. 
What's better is the availability of shopping zones and sports complexes, so your family can experience a holistic lifestyle without pollution and overcrowding. 
4. Close Proximity to Workplace 
The modern integrated townships provide minimal rented office spaces where companies can set up their workstations, and work diligently. These areas are more appealing to entrepreneurs due to the low rental costs and lesser time to travel. Employees can also benefit from walking to work with multiple residential options within walking distance. Additionally, they offer a peaceful environment for work unlike the continuous commotion in the cities, not to mention the overcrowded vehicles because of which employees always reach late to the office. 
5. The Complete Infrastructure 
Integrated townships, the new age format of living, gives a feeling of completeness that can be hard to find in the hustle and bustle of a metropolitan city. Vatika INXT, being a prime standout example, is fully integrated with 2,00,000 residents living, 500 shops operational, 4 clubs, 3 swimming pools, 5 play areas, 13 parks, 24-acre green and fully developed infrastructure. Integrated townships are soaring high in the demand list for new house seekers as well as entrepreneurs. This is mainly due to their prospect for higher ROIs and peaceful life away from the chaos of cities.
The Vatika Group is the pioneer and has developed self-sustainable integrated townships at prime locations. Contact us for enquiries.