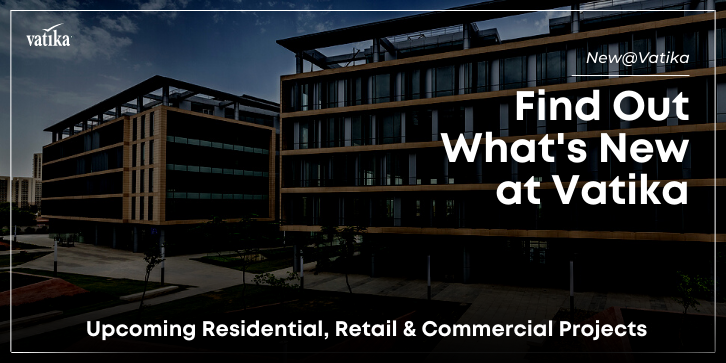 At Vatika, we remain committed to designing and delivering the most sought after spaces that enhance the lives of our customers. The Group has a record of having developed and delivered some of the finest commercial projects and the new commercial projects will surpass the benchmarks. 
In our endeavour to create exciting destinations, we will soon come up with three new retail projects. Our latest residential projects will expand our footprint in new sectors of Gurgaon. We are confident of your continued support and goodwill towards our future endeavours. 
The Statesman, G+26 storey iconic landmark has been unveiled with 6.5 lakh sq ft office and retail space. The tower is the highlight of the most prestigious business address on NH 48 – One On One in Sector 16, Gurgaon.
The Statesman will be among the tallest buildings in the NCR and will command uninterrupted panoramic views. The architects, Studio – u+a of London and New York, have conceived this building to stand out at the summit of the plaza.
Vatika Crossover is a landmark retail destination offering SCO (Shop cum Offices) plots in Sector 82A, bang on NH 48 in Gurgaon. The SCO features 2 side open plots accessible from NH 48 on the front and residential sectors from its rear side.
With only 108 plots on 10 acres and low maintenance, Vatika Crossover provides an excellent business opportunity. The plots ranging from 95 sq yds to 215 sq yds are arranged around a well-designed landscaped central plaza.
3. V'Lante
V'Lante will be a one-stop retail destination for all shopping needs in Sector 83, Vatika India Next, Gurgaon. With proximity to NH 48, the project will attract huge footfalls from the surrounding residential areas. V'Lante is designed to provide high visibility to all shop fronts and will offer easy access to all visitors either from the surface or multilevel basement.
The complex features a premium banquet space, an amphitheatre and ample outdoor spaces. Flexible spaces have been planned for large retail format and the lower ground floor is best suited for hypermarket/lifestyle anchor stores.
4. Seasons
The seven-storey high-rise tower, 'Seasons' at Town Square 2 will house retail businesses like interior firms, experience centres, showrooms, lounges etc. Located in Sector 82, Gurgaon, this commercial project will offer 90,000 sq ft retail space. Air-conditioned shops, high-speed elevators, wet points in all shops, 100% power back-up, ample parking areas and drop-off zones are some noteworthy features. 
Seasons will have a catchment population of 5 lakhs, attracting not only residents of Vatika India Next township, but also people from adjoining areas. Brands like Athlete Gym and a brewery café have been signed.
5. Emilia Luxury Floors
Encouraged by the success of Emilia Floors, Vatika has launched Emilia Luxury Floors with a host of upgraded features. With just one unit on each floor, these low-rise floors are located in Sector 83, Gurgaon, and will have access to all township amenities at Vatika INXT.
Emilia Luxury Floors have been thoughtfully planned with emphasis on efficient space utilization. All the units will enjoy an activity terrace, additional utility area and spacious balconies. The interiors are well-appointed, and every home is equipped with a modular kitchen. Each apartment comes with covered parking in the stilt area. A fully furnished sample flat is ready.
INXT Evolution is a mix of small size plots and floors coming soon in Sector 88B, Gurgaon. The project is structured around gated and secured precincts connected through 24 m wide roads. (https://www.enov8.com)
INXT Evolution enjoys a prime location within Vatika INXT2 township and is easily accessible from Dwarka Expressway (NH 248BB). The streets are designed to facilitate the construction of houses on stilts. Amenities like open spaces, parks, neighbourhood retail and fitness centre will enhance the community living experience.
Contact us for a free site tour of any of our Residential, Retail & Commercial Projects.