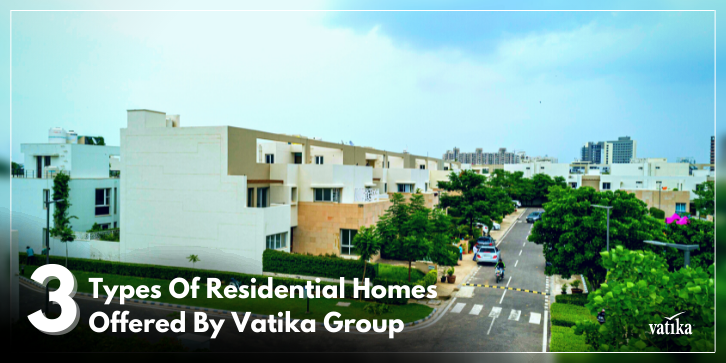 Sealing the best house deal requires hours of surfing through the real estate market and making a suitable financial strategy. Once the budget is set, the frenzy of house-hunting begins. With the plethora of options available, it is possible to find yourself trapped in a maze of choices. To make an ultimate decision, you need to recognize three standard types of residential homes and what they can offer. 
Apartment residences are self-contained homes that are most common in cities. In most cases, Indian families look for a temporary place to live for a few years near their workplace before settling into a permanent home. Apartments come with innumerable essential features, for instance, they are centrally-located, and can be bought on a lease agreement, a monthly rent basis, or can be completely owned. Community-based apartments are preferred by most leasers because of their tight security and shared amenities, all at standard price rates.
Independent floors are low-rise residences that offer privacy, convenience, and at the same time, the buyer does not have to go through the strenuous task of building it. Instead of functioning on a lease-based agreement, the buyer can purchase the complete independent floor (all floors) in case of extended family and design it according to his/her convenience. 
Villas are open-planned residential units that house state-of-the-art luxurious amenities. It may be a single-storey residence or a duplex, which is usually located in a suburban area, so you can avoid overcrowding. Some villas also come with complete facilities and amenities. Villas come with the pleasure of owning your plot of land. 
Apartments, Independent Floors, Villas: A Comparison
Let's look at some essential points of comparison between apartments, independent floors, and villas. 
1. Pricing: Apartment leasers/renters have an advantage over this category because of the flexible pricing and several options to choose from. Independent floor owners need to spend the entire amount in one go or in short intervals. A standard villa costs more than a 4BHK luxury apartment. 
2. Rental Yields: Capital appreciation with regards to apartments is definitive, owing to the nuclear structure of modern Indian families. Similarly, the ROIs on independent floors are good, pertaining to more space, share of land and low maintenance costs. Villas on the other hand come with exorbitant rates and daily/monthly upkeeps. 
3. Ownership: There is a variation of ownership experiences you have on offer. Apartments give you the high-rise views to admire along with the amenities, whereas Villas & Floors provides bliss of your own personal space with less density of residences and the safety of a gated community.
4. Parking: A very understated, yet very important aspect to a home-buyer is parking. At Vatika, all of it is taken care of. Multi-level basement parking is a part of our apartment complexes while Villas & Floors enjoy the facility of dedicated surface parking in our gated communities
Whichever residence you choose to go for, purchasing it from the right company is essential so you have the best clarity of your purchase. We, at Vatika Group, offer these residential properties at strategic locations at standard market rates.
Contact us for an inquiry today.