With the continuous economic downturn for the past few years, commercial real estate market, which includes office and retail markets seems to be subdued as sales went down and the capital values across leading cities remain pressurized. Because of these factors buyer sentiments remain largely cautious while making any investments in commercial realty sector.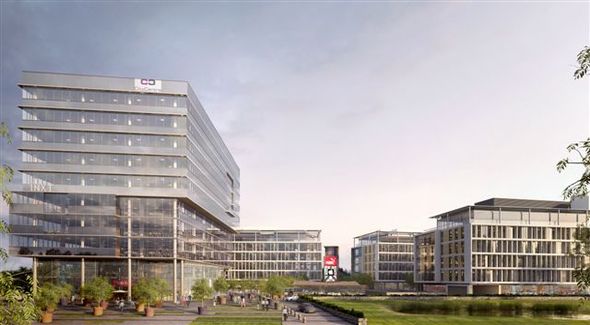 The relatively high prices for buying & renting, and the current interest rates on borrowing amid an uncertain economic climate has further plummeted the sales. As a result investments in real estate has slowed down, which has resulted in weaker construction activities in most cities.
High Vacancy, Low Demand
The commercial office space, specifically has seen a decline in demand in the third quarter of 2013. Many corporate have focused on consolidating and downsizing their space allocation, and/or are relocating to peripheral markets. While this has contributed to bring stability in the rentals in most markets in recent months, plummeting demand and high vacancy levels has resulted in a decline in office space.
Due to the decline in demand in the previous quarters, future investment plans in the realty industry, particularly in office spaces has come to a standstill or have been delayed.
Corporate Counter-Measures
Given the current economic and political backdrop, demand is to remain subdued in the coming quarters for commercial real estate. With most corporate currently focusing on keeping their expenses to the minimum, optimal space utilization and cost cutting measures have become the keywords. In the coming quarters an increased demand in small and medium sized commercial spaces is very likely.
Signs Of A Bright Future
Stabilizing Rupee
With some comforting indications of revival in the global and domestic economy, there are hopeful signs of better performance and improved economic prospects towards H2 2014. For instance, the rupee has somewhat recovered with the impetus provided by investors pulling back from emerging markets between June and August this year, and the domestic stock markets have rallied too.
Relaxation In Investment Policy
The Indian Government's relaxation for making investments, both at home and abroad, like NRI investors can now purchase shares, domestic firms can invest 400% of their net worth in foreign markets etc. will help stimulate the Indian economy.
Several other reforms are expected to be approved, which will open up the domestic market to foreign banks and deepening corporate debt markets, thus promoting investment and further raising the efficiency in the financial sector.
Promoting Exports
The export sector is also showing promising signs of recovery with an increase in expected demand for H2 2014. Several economic indicators and government's domestic initiatives, like reviving exports and curbing imports will help provide the necessary boost for the revival of the realty sector.
All in all, several counter-measures offer scope of improvement in the trading sector in the coming time, and India's iterations in policy making and economic transparency makes the future look decidedly better than it did just six months ago.
Agricultural Production
A strong agricultural production due to last year's healthy monsoon will further bring down inflation in food prices, and augurs well for weakening of inflationary pressures in the future.
Attracting Foreign Investments
To provide impetus to economic growth in the states, the government is working towards making provisions and policies to increase foreign investments in key sectors. By targeting sectors such as multi-brand retail & single brand retail, and by raising the limits of foreign investment in telecommunication and insurance sectors, the government is hoping to boost investor sentiment and revive economic growth.
But in the end, implementation is key; and the government will have to bring more transparency and minimize obstruction, by defining unambiguous guidelines and setting up committee to fast-track clearances, which will help build trust and confidence among foreign investors.
Real Estate in 2014
Looking forward in 2014, beyond the upcoming general elections, the vision and objectives for the country's economy needs to be clearly defined, along with competent economic management at micro and macro level. From the current standpoint of both, the economy and the real estate sector, a proactive engagement and industry-centric decision making and reforms are required to drive faster economic growth.