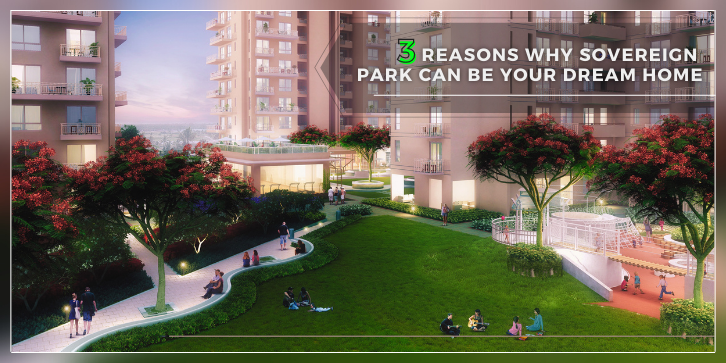 With 40 acres of water bodies to its left and overlooking 100 acres of sweeping views to its right, the Vatika Sovereign Park can qualify as your dream home. A budding site among 3000+ others that are undergoing construction on the Dwarka Expressway (NH248BB), Sovereign Park reigns as the only residence in the area with a magnificent 360° view.
Even with a swarm of residences buzzing in Dwarka Expressway, Vatika Sovereign Park will be your sure shot at securing your dream home. This is because we are offering you amenities that are hard to be mirrored in any other residential plot area.
Why must you book your home at Sovereign Park immediately?
1. Picturesque Arena- How many of us have imagined waking up to stretches of water bodies overlooking our balconies while we sip on our morning coffee? There is something liberating about the view overlooking someone's house. Sovereign Park materializes this imagination with the picturesque arena it is engulfed in.
Experience the sight of 80% open land with greenery and landscapes from a 360-degree viewpoint. This means you can see vast stretches of blue and green all around. Picturesque views will be a major part of your lifestyle here.
Convinced already? Wait! We have two more to go.
2. Spacious Interiors- If you think the exterior is a deal-breaker, the features of the interior will have you convinced further. High ceilings, doors, and large wrap-around balconies are some eye-catching interior features sported by the Sovereign Park.
That's not all. With the living room floors constructed with imported marble, the bedroom floors inlaid with polished wood, and a dream modular kitchen, you can start ticking off the amenities you desire in your dream home. There are dressing areas in all bedrooms, and a powder room comes with every apartment. How vintage!
Fuzzy up with ample winter sun and staying shaded during the summers, the interiors of Sovereign Park are designed keeping in mind the dynamics of the summer and winter weather. All in all, you will experience a superior level of comfort at Sovereign Park.
Low-density apartment design by Arcop, Canada, allows for more space with only two apartments per floor.
3. A Plethora of Amenities- Sovereign Park puts safety as the first priority. It has armoured itself with a multi-layer security system with experienced security guards sworn to protect its residents.
Along with this, this spectacular residence sports a club and other recreational spaces. These include an exclusive club, yoga terrace, fully-equipped gym, half Olympic-sized swimming pool with a kid's pool, tennis court, basketball court, and skating rink.
Sovereign Park is constituted in a prime location with award-winning MatriKiran High School in close proximity, 80-acre HUDA park/recreational greens proposed nearby, and India's largest AIIMS Hospital (under construction) is present close-by. Additionally, a variety of restaurants, malls, entertainment facilities, and offices are also stationed nearby.
Do you still think you can overlook such a grand offer? We are sure you are convinced by now.
What are you waiting for? Contact the Vatika Group to book your slot for the upcoming Sovereign Park residence now before it sells out!