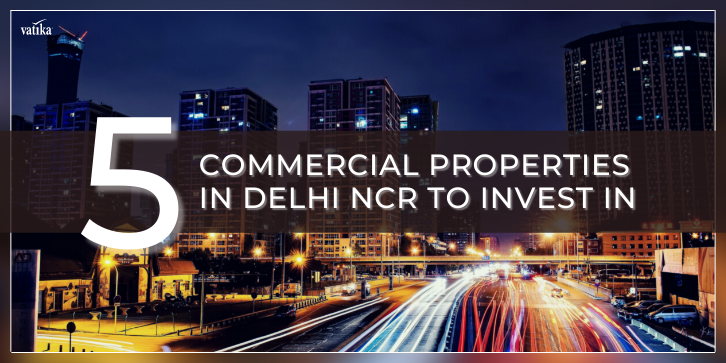 It has been months, and your single-minded pursuit of finding the most iconic commercial properties hasn't been pulled off? Well, it's time you should realize that the maze in which you were lost has finally found its key to succour you out of tirelessly searching for commercial properties in Delhi NCR.
Here in this article, we bring you the finest arcade of commercial properties in Delhi NCR.
Immerse yourself in the elaborative detailing of the most sought after commercial properties and appease all the desires you have been carting in your mind.
Here's to the five most crowned commercial properties that are sure to underpin your biggest dreams so far:
1. Mindscapes
Situated on the main Mathura Road, Vatika Mindscapes is an A-Grade commercial complex and comprises efficiently designed offices and retail spaces. Engineered to perfection by celebrated architects from Singapore, the commercial building thrives with the widest spread of facilities. Mindscapes enjoys an excellent location on Mathura Road, and Sarai Metro station is adjacent to the project. With corporate retail, restaurants, cafeteria, food court and ATMs, this commercial property will provide an extraordinary work environment.
2. One On One
If you are in Sector 16, Gurgaon, one thing that will steal your heart for sure is the prestigious and colossal One On One! Located right on NH 48, this magnificent commercial campus boasts of a huge piazza enclosed by six distinguishing blocks. The sprawling landscaped piazza is designed by HM White of New York with pavilions and water bodies making it a lively recreation hub. The floor layouts offer optimum space utilization and efficiency to ensure zero wasted space. The commercial [property has a pre-certified 4-star GRIHA rating for its sustainable and environment-friendly green building design
When the brilliance of architecture and the sparkle of art mixes, expect a true work of genius which is as grandeur as INXT City Centre! Stealing the spotlight on itself with an angular ultramodern geometry which is exhibited in the form of an enclave of six independent and integrated blocks, this commercial marvel welcomes corporate retail and restaurants and much more. Strategically positioned at the intersection of NH 48 and Dwarka Expressway (NH 248BB), INXT City Centre is easily accessible from Delhi and Gurgaon.
The Light House is an iconic building situated just 500 m from NH 48 in Sector 82A, Gurgaon. Apart from its great location, the office complex offers low operation and maintenance costs. A part of 550 acres mega integrated township — Vatika India Next, this commercial property is a steal-deal for, lawyers, chartered accountants, doctors, architects, travel agents, interior designers and other independent professionals.
5. Vatika 44
Ideally located at Sector 44, the commercial property is very near to the Huda City Centre metro station and is Gurgaon's premium business address. Vatika 44 will be aesthetically designed and landscaped with a focus on energy conservation and space maximization. Offices have been designed around side cores to ensure ample natural light and good surrounding views. Energy-efficient glazing system will reduce heat and glare. Architectural lighting to illuminate the complex will improve its usability and footfalls.
Tempted already? Well, this is just the start!
Unlock the wide range of exquisite commercial properties from Vatika Group. Contact today at 9555 930 930.