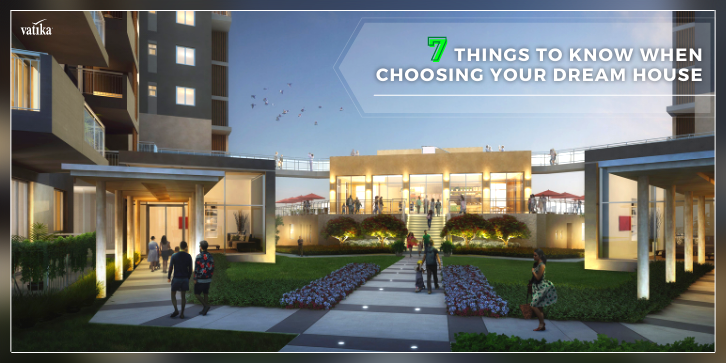 You're meeting your financial goals, and you're finally ready to purchase your dream house. This is where the palm-sweating begins as you start searching for a realtor who can get you out of this cataclysmic state.
While hiring a realtor is a necessary step, gaining knowledge in the field of real estate is equally rewarding if you are to purchase your dream house.
Here, we have put together 7 things you should consider before choosing your dream house:
1. All Amenities are Close by:
The location of the house is probably the most important factor to consider. Scan the area for grocery stores, hospitals, hardware stores, and other essential services. If you find all of them, you can tick this point off your list. 
Deserted areas may be quieter, but lack of transport facilities and basic amenities might have you spending a fortune to reach these places.
2. Don't Empty your Savings:
Remember it is not called a sensible purchase if you have to empty your savings. Play smart and purchase a house within the budget you had planned.
This is because purchasing the house is not the only thing you are saving up for. Some potent hidden costs need to be taken care of during or immediately after the purchase. This includes property taxes, closing costs, homeowner's insurance, paying for the escrow, interest rates, moving costs, and the list goes on. 
So, even if you are applying for a home loan, it is always safe to ask for a little more than what your dream house stands at.
3. Think About its Future:
Before you purchase your dream house, you must have a roadmap for its future uses. Whether you wish to live there for a long time, resell it a few years later, rent it out, etc.
4. Size Matters:
The size of your dream house matters. For instance, if you are willing to start a family there, you will need sufficient space. Even if you are living in a joint family, you must ensure that your dream house can comfortably contain and nurture your family.
5. Friendly Neighborhood:
A friendly neighbourhood where you can freely communicate with other families, take part in community events and galas, gives you a homely feeling. 
It won't matter if you have the perfect house if you cannot invite your neighbours in for the occasional feast or Saturday night karaoke sessions.
6. Does your New Home embrace you?
Putting aside the budget, size, and technical aspects of purchasing your house, do you feel at home in your new home?
This sentiment is the most important feeling which is going to determine whether you will be comfortable living there in the long run. So, make sure you take a moment to feel the vibes of the place alone before closing the deal.
7. Get in contact with a well-reputed Realtor:
Even after researching, there is no way you will understand the business of the real estate industry better than realtors who are bred with this knowledge. So, before diving in, invest in a good realtor who will guide you through the entire process.
If you are seeking extra help while purchasing your dream house. Contact Us for more details.