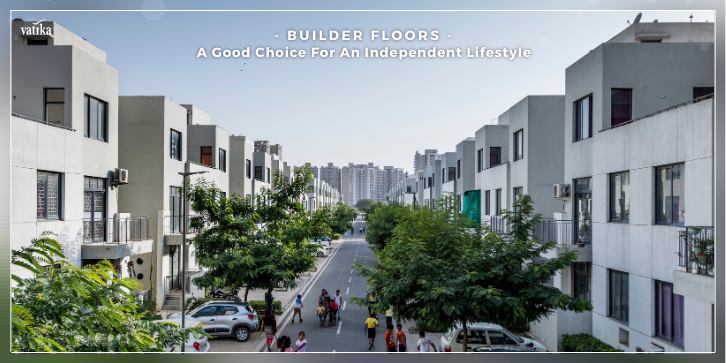 Anxiety hits the roof every month when we have to start living on a tight edge due to the exorbitant maintenance costs and monthly rents of our homes. However, the only category of people who have managed to slip through the holes of this net is builder floors owners/buyers.
They say builder floors are a great investment prospect for an independent and serene lifestyle. We will tell you how.
How is it a good choice for independent living?
Imagine a scenario where you can flee from the vicious cycle of almost emptying your earnings every month to pay for the maintenance, damage repair, rent, etc.?
Let us tell you, it is possible!
If you are an owner, this is the opportunity to hit the jackpot and extract value out of your property, as well as some extra Benjamin. Millennial consumers benefit from this deal too as the surplus returns to this investment override the loopholes constituted in the system.
What is secured is some extra privacy, abundant space, and low maintenance costs.
Even though a recent survey dictated that 60% of first-time apartment buyers tilt towards multistoried apartments, a shift can be noticed in favor of builder floors.
The Players
The equation comes down to two primary players, the owner of the building and the builder. An instance of a third party joining the game is a consumer who would like to purchase a builder floor from a utility-maximizing prospect.
In the case of the trio, a tripartite agreement is to be signed to enable the proceedings.
Tread with Caution
Ambiguity is the middle name for the real estate industry. You will inevitably be stabbed in the back in case you don't possess sufficient knowledge in the same.
Elucidated below are some thumb rules to internalize while purchasing a builder floor:
● Check the title of the building with the local registration office. No builder floor can be finalized without the consent of the registration office. Avoid sliding headstrong into the mousetrap, and ensure authorization.
● Approved Building Plan and FAR. Floor area ratio (FAR) and the building pan need to be cross-checked and referenced through appropriate government authorities before signing up.
● Patience and second opinions should be your virtue. Intricate scrutiny and second opinions should be your ideal mantra before investing in a builder floor. This will ensure that you will not have left out imperative bits that can take your plan to the NEXT LEVEL.
● Completion and Occupancy certificates. Another tick on your list should be after you approve the legality of the completion and occupancy certificates of the concerned builder floor. With this intact, your water and electricity rights can be ensured.
Wish to join the wagon of builder-floor customers and procure the independent lifestyle of your dreams? The Vatika Group is a leading company that thrives in the real estate market. They have been successful in striking favorable builder floor deals that have impacted the lives of many.