Population in our country has been ever increasing, however, on the other hand our natural resources to cater to this population is limited. To create a proper balance we actually need more cities with all the amenities to cater to the requirement of this population.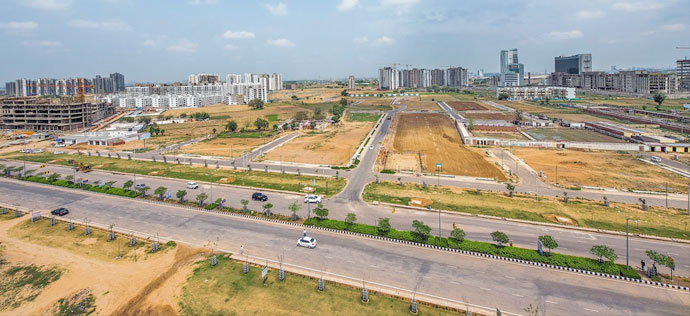 The concept of integrated self sustaining Townships, being developed by private developers is really coming a long way in creating this balance.
Integrated self sustaining townships are being developed in the periphery of cities due to availability of large tracts of land. Spanning hundreds of acres, they have a mix of plots, Villas, Independent floors, Group Housings, Office/ retail spaces, cinemas, schools, hospitals, police stations, religious areas, parks, clubs, community spaces, fire stations and all other facilities that are there in developed urban centers.
Benefits of buying a property in such townships are multi-fold:
Well Planned infrastructure:
These integrated townships have a well planned infrastructure in place. Well laid out road network and walkways, sufficient parking spaces, Green spaces, water/ waste management, proper lighting, security systems, proximity to all the basic amenities and so on. The infrastructure deficits that people face in metros and cities are well taken care off, thus providing an edge over the main cities which are over-populated and have inherent problems which are incurable.
Price Advantage:
The properties within these integrated townships are 15% to 20% cheaper than similar properties available within the old cities, in spite of the fact that you get lifestyle advantages and you get an opportunity to live in a planned set up where there are no traffic jam, and all the amenities like schools, hospitals, malls, shopping complexes, entertainment hubs etc. are at a walking distance.
Walk to work Concept:
In majority of the townships there are sectors/ areas which are designated for commercial complexes wherein big office spaces are being developed and if these complexes are strategically located like: on major highways or have a strong connectivity through metro rail or inter and intra state bus services, they are easily leased out and people who work in these office spaces grab upon the opportunity to buy a house within the township and save upon the travelling time.
Optimal utilization of natural resources:
Since a lot of planning goes into the township development, the developers do take care of the proper utilization of resources like water, electricity, waste management etc. Few developers have started supplying recycled water for the purpose of flushing and horticulture. Thus reducing the requirement of water per person. As per the studies, on an average 135 Litres (approx.) of water is required per person per day. By usage of recycled water this requirement has substantial gone down to 90 Litres (approx.) per person. There are townships wherein the developers have used energy efficient street lights (LED lights) thus reducing the consumption and also increasing the life and in turn reducing the recurring costs.In a nut shell a well planned, self sustained integrated township has the potential to create a way of life that rejuvenates and energizes and thus provides a balance into your life which otherwise is full of stress and pressure.

A word of caution!

Do a thorough check on all the above mentioned factors before buying a property in a township to take an informed decision.