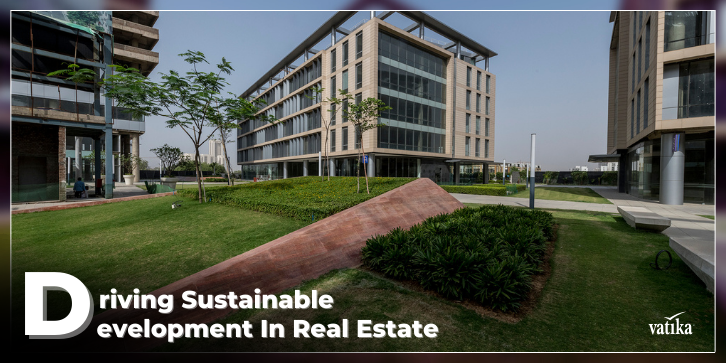 When the term Sustainable Development surfaces, the interpretations can happen in various ways. However, at its most integral part, sustainable development stands for the development which suffices the present and does not affect the ability of the future generations in meeting their own needs. 
Speaking with respect to the real estate universe, sustainable development plays a major role and Vatika Group has very well set its foot in guarding Mother Nature without losing out on the speed of development.
Our resource-sensitive approach empowers today to bring in a development that is ecologically sound and does not impose intimidating threats on our environment.
Here are five ways through which Vatika Group is driving sustainable development in real estate:
1. Energy Reduction
Using the latest technology and sourcing various forms of energy, we have ensured that there is a significant reduction of energy usage and adheres to better specifications. Our optimal designs are based on an ideology of maintaining an ecological balance and does not conflict with nature's equations.
2. Less Transportation
Mapping fewer carbon steps, we are trying to increase local content so that significantly we can evade transport energy. Since fuel emissions have been one of the biggest threats to Mother Nature, a sustainable form of restricting transportation has been a key factor in how we are building homes for the future. 
3. Energy Innovations
Instead of using direct energy, our architectural plans include ways of integrating passive energy components. In this way, our objective stands to affirm bringing a more sustainable way of living so that our future looks brighter and not questionable. 
4. Unconventionally Conventional
Each of our architectural plans is inclusive of an unconventional pattern that ensures a resource-sensitive manner of using water, energy, air, biomass and land. An out of the box approach that respects nature's offerings for today and provokes inspiration for preserving it for tomorrow is what stands for each design envelope. 
5. Contemporary Engineering
With deep thinking, and evoking the engineering that blends the needs for sustainable development and the demands of an opulent lifestyle, Vatika Group has been known for its green building practices. 
Making each aspect of development environment-friendly and ensuring to preserve the jewels of nature for the future, Vatika Group is amongst the real estate pioneers flagging the idea of sustainable development into each of its creations.
Envisioning the Future…
In this competing age of rapid development and massive urbanization, the term sustainable development has lost its significance. 
But not something that Vatika Group can bear to accept. The shielding responsibility to ensure that under the façade of development the environment must not pay the price is what we have taken up solemnly.
From walls to floors, we try to reflect the futuristic ideas that are thoughtful and inspiring; wish to take a spin that is more than you can imagine right now?
Visit now or Contact us for a free site tour today.