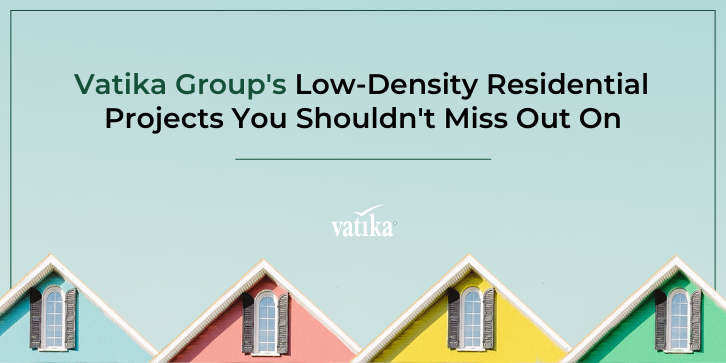 Luxury can mean many things when it comes to residential projects. In real estate especially, the word has been used quite indiscriminately. Depending on the context, luxury in a residential project could be a reference to a large floor area, numerous bedrooms, ostentatious design, or fancy flooring and imported fittings in the bathrooms. Most often, though, luxury in real estate is linked with excess – with exteriors that are excessively ornate, fittings that are exorbitantly expensive, or rooms that may be too big for efficient air-conditioning. 
At Vatika, we think of luxury as 'Exclusivity'. Exclusivity, by its very definition, implies that not many people will get to be residents. This exclusivity isn't just for snob value. It means less crowding and relaxed enjoyment of the project amenities.
Our luxurious residential projects are 'Low Density' ranging from 35 homes per acre to 45 homes per acre. A low population density means a greater 'share' of amenities per resident hence an exceptional lifestyle. It also means fewer vehicles, and more trees, and an environment that's much, much cleaner and healthier.
Sovereign Next and Sovereign Park are spacious, low-density residential projects by the Vatika Group. The projects are situated on National Highways and enjoy a prime location. With only 2 apartments on each floor, an air of exclusivity pervades the project. The residents will enjoy maximum privacy, and even the shared areas like elevators and lift lobbies feel much less 'public' and more like a private space. With fewer residents, each of them experiences a very special lifestyle.
Status (As of September 2021): Construction is in full swing
Sovereign Park is being built in Gurgaon's Sector 99 and is located right on National Highway 248BB (Dwarka Expressway). The project enjoys good connectivity from Gurgaon and IGI Airport.
Sovereign Park is an exceptional residential project, with many distinguishing aspects. One of them is that all apartments at Sovereign Park will have uninterrupted views forever. It is surrounded by 40 acres of water bodies on one side and 100 acres of low-rise development on another side. No other high-rise building will ever interrupt the views.
Another unique feature is the availability and enjoyment of space. There are only two apartments per floor, the apartments are quite large and spacious. Three configurations are available – 3 BHK, 4 BHK and penthouses. The feeling of spaciousness continues with the design and the layout of the apartments. Importance has been given to maximizing natural light and ventilation, the clear ceiling heights are in excess of 10 feet, and the doors too, are high. All the apartments have large balconies to foster a sense of oneness with the outdoors. All the bedrooms have attached dressing areas, which remove the need for cupboards in the bedrooms and thereby create even more usable space.
Promising maximum comfort and convenience, the project has a full complement of amenities and recreational facilities that you would expect from a high-quality residential project. There is an Olympic size swimming pool, exclusive club, and multiple sports courts. Perhaps the most beautiful aspect of Sovereign Park is the elegance and beauty of its gardens, landscaping and community spaces. A convenient retail facility is located within the complex to cater to the residents' daily domestic requirements.
1. The only project in Gurgaon with 360-degree views, right on NH 248BB (Dwarka Expressway)
2. Apartments will enjoy uninterrupted views forever – 40 acres of water bodies on one side and 100 acres of sweeping views on another side
3. 80% open area with extensive landscaped greens
4. Designed by Arcop, Canada
5. Landscaping designed by M. Paul Friedberg, New York
6. Low-density living, only 2 apartments per floor. All apartments are park facing
7. Spacious, well-ventilated rooms with ample natural light
8. High ceilings, doors and large wrap-around balconies
9. All bedrooms with dressing area, powder toilet in each apartment
10. Imported marble in the living room, wooden flooring in bedrooms, VRV air-conditioning, modular kitchen
11. Multi-tiered security system to ensure high security
12. Thoughtful project design ensures that all apartments receive adequate winter sun and ample summer shade
13. AIIMS hospital, the 80-acre HUDA Park, as well as MatriKiran High School, are within easy reach
Status (As of September 2021): Ready for fit-outs, handover will commence in 2021
Sovereign Next is only 500 metres away from NH 48, just a straight road away from the commercial hubs of Cyber City and MG Road. The new Metro hub and the ISBT proposed in the Gurgaon Manesar Master Plan will be coming up just across the road from INXT.
Located within the 550 acres Vatika India Next township, Sovereign Next is literally surrounded by every facility you could ask for. Schools, hospitals, markets are within walking distance. In fact, the project shares its boundary with the buzzing retail complex – Town Square.
The project has a few premium apartments nestled in 7.5 acres of beautiful landscaping. To enhance privacy, only two apartments are planned on each floor. Space maximization has received a lot of attention, and you should not be surprised if your home feels even larger than it actually is. Larger rooms, higher ceilings, big balconies and a lot of storage space makes living at Sovereign Next such a pleasure.
The community will be replete with all the modern amenities that residents might expect for a sophisticated and fulfilling lifestyle. Sovereign Next will have its own swimming pool and clubhouse, landscaped lawns, and well laid-out walkways.
Quality in every detail is the essence of Sovereign Next – and wooden flooring, VRV central air conditioning, modular kitchen come as standard with every apartment.
The project has been designed by studio u+a of New York, the architects who won awards and set new standards for luxury with the iconic Sovereign Apartments in Gurgaon.
1. Part of 550 acres mega township Vatika India Next, Gurgaon, where 2,00,000 residents are already living
2. Located in Sector 82A, just 500 metres from NH 8
3. Adjoining Town Square – buzzing retail complex
4. Landscape design by internationally reputed Tierra Design Pte of Singapore
5. Low-density development, just 2 apartments per floor. Only 35 apartments per acre
6. Spacious and well-designed homes
7. High ceilings/doors and large balconies
8. Luxurious finishes including VRV air-conditioning, wooden flooring and modular kitchen
9. Multi-tiered security with CCTV surveillance
10. The total area of club, amenities and recreational spaces is 111,000 sq ft
11. Schools, markets, restaurants, entertainment within walking distance
12. Amenities include an exclusive club, swimming pool, gymnasium, sports facilities, jogging track
Life in urbanized cities and neighbourhoods rarely blend comfortable living with the rejuvenation of the senses. Luxury and premium are defined by specifications and opulence; rarely by lifestyle. Sovereign Park and Sovereign Next aims to provide a rich living experience to its residents, and the lifestyle it offers will soon make it a favoured address for the discerning. These well-appointed dwellings that are the right size to accommodate modern aspirational living, and usability has been an important part of the design philosophy.
You could be the next buyer. Get in touch with us and we will guide you through the entire process.