Vatika's First India Place, the business destination in Gurgaon, is a commercial and business centre located near the intersection of MG road and NH-8 expressway that connects Gurgaon with Delhi. Apart from its location, we offer our clients a platform where they can grow and flourish.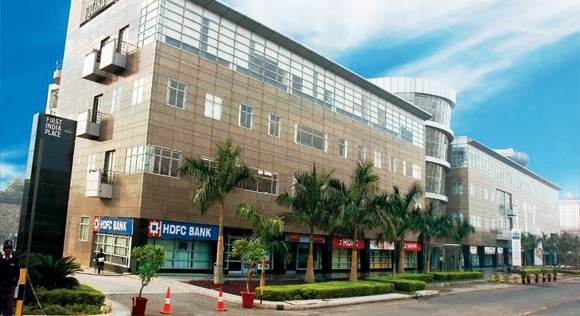 The aesthetic beauty of the external architecture and design is complemented in its interiors and the level of service offered by our team of trained professional who strive to provide services, business support & experience of international standards.
Standard Features
First India Place gives you the freedom and flexibility to choose from services and facilities that are made available at your disposal. But there are some standard that are necessary for any business to run and operate. The commercial space is fully automated in terms of ventilation, security and fire systems. The commercial premises is fully automated with the help of state-of-the-art Building Management System that is fully integrated with the building's security, fire alarm and lift control systems.
The common area, which includes the atrium link to the restaurant, shops, health clubs etc. has air conditioning systems which help maintain a common temperature level throughout the building. The state of the art cooling system comprises of chilled water type screw chiller machines of 600 TR capacity, double skinned AHUs, Double Storage system and computerized BMS that runs 24/7.
To tackle the issue of personal and common power usage, FIP has separate metering for common and tenant loads. Because business comes first, First India Place is equipped to handle power cuts which is a common problem for businesses throughout India. The commercial complex has 100% fully automatic power backup system that runs on diesel generators with a 30 seconds switch over time and is powerful enough for lighting power and AC.
For the safety of our tenants during fire and other emergency situation, (First India Place) FIP has main alarm panels, break glass contacts, as well as smoke and heat detectors on all floors. In case of evacuation, the emergency light fixtures on all escape routes that run on UPS (uninterrupted power supply) will safely guide the occupants to the nearest exits leading to the assembly point.
Exteriors & Interiors
The front of the building overlooking the road is made of blocks A & B, with the atrium in the middle. The external cladding gives a beautiful glossy finish to the building, which is a combination of glass, aluminum and granite with insulation. The building premises covered with tall palm trees and lush green lawns enhances the overall ambiance. The premises also has provisions for surface and roadways parking, with lighting for pedestrians. The picturesque building facade lighting turns
First India Place into a beautiful masterpiece at night.
The atrium leads to the main lobby which takes the visitor into a different world, with its beautiful wood paneling and marble flooring. The spellbinding design of the atrium which is at least 20 meters high renders a feeling of grandeur, with a picturesque view of the inner block. From the atrium, blocks A & B can be accessed which are adjacent to the main road, while a long corridor takes you to block C.
Block C is surrounded by landscaped lawn and walkways with palm trees all around; a serene space to relax and unwind. Blocks A & B has GF+3 floors each, and block C has GF+5 floors, with a total of 10 elevators. Each block has 3 elevators (2 passengers and 1 service) and 1 in the atrium for access to the underground parking. The underground parking has a total capacity to accommodate 165 vehicles, apart from surface parking, which can be accessed with the help of swipe cards.
The atrium and the lobbies of the commercial complex has marble/granite flooring which renders an exquisite finishing. For a quick getaway to relax the mind and soul, First India Place has terraces and balconies on most floors.
We @ First India Place
We at Vatika are proud to serve our clients, both national and international who have given us the opportunity to with them, and  as an organization, to have let us make contributions in their success. We strive to create working spaces which are ideal for client engagements as well help create an ambiance which help employees perform their best, while maximizing productivity.