An organization's business ethics are reflected by, what, how and where it does business, as it expounds a lot about an organization. The 'what' and 'how' are the basics on which a business grows and flourishes, but 'where' provides an organization with a platform to present an itself professionally and helps to put your best foot forward.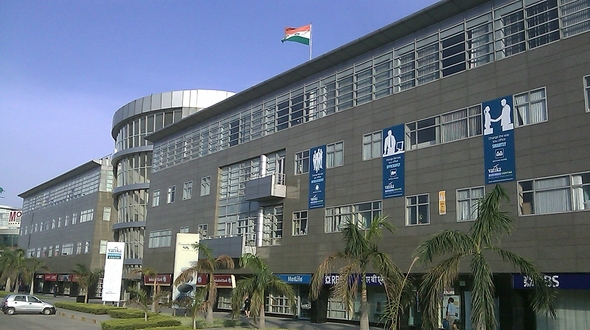 First India Place, the flagship project by Vatika Ltd. is among the most exclusive commercial real estate in one of the busiest and reputed business districts in Gurgaon. Located on MG road, Gurgaon it sits on a gold mine of potential customers, and also offers a great place to conduct business.
Introduction
First India Place is a commercial and retail centre in the heart of Gurgaon's commercial district. It also offers services as a Business Centre, with provisions for serviced office spaces, virtual office and so much more. Equipped to serve every business needs and with highest standards of design and infrastructure, First India Place has established itself as the finest commercial centre in Delhi NCR.
About First India Place
Known for its architectural finesse, FIrst India Place has been developed in an area covering 1,71,000 sq. fts. It is divided into 3 blocks which have been built in a shape that resembles an inverted 'T', with landscaped garden and beautiful palm trees surrounding the premises. Blocks A, B & C have a floor plate area of 9,592 sq.fts., 16,798 sq.fts. and 11,640 sq.fts., respectively.
While providing an environment and services of international standards, its location also gives an edge to your business as it is a few hundred meters away from Gurgaon's MG Road metro station and also very near to NH-8 expressway, bringing it on the intersection of the two main roads connecting Gurgaon with Delhi.
The Business Centre
Vatika's First India Place also offers services as a Business Centre, like serviced office spaces, virtual office packages, meeting rooms, executive suites and several other a-la-carte services ranging from professional phone answering in your company's name, facilities management and so much more.
So, if you are a start-ups or a large corporations, First India Place gives you the platform that will take your business to newer heights, and that too at a fraction of the cost of a conventional office space, as well as fraction of the time required to manage it. A team of professional staff at First India Place will answer your calls and provide expert business support to businesses of any shape and size. Vatika Business Centre can design a customized solution to meet all your business support requirements.
Our Clients
We at Vatika are proud to serve our clients, both national and international who have given us the opportunity to with them, and  as an organization, to have let us make contributions in their success. We strive to create working spaces which are ideal for client engagements as well help create an ambience which help employees perform their best, while maximizing productivity.
We understand business and its requirements which help us serve you better. We engage with businesses of all shapes and sizes, which help us understand business requirements, whatever stage your business is currently in, and provide optimal services customized to suit your needs.
It has helped us gain support and build rapport among small businesses, as well as MNCs of the likes of Royal Bank of Scotland, Thomas Cook, B L Baush + Lomb Pvt. Ltd., HDFC bank, Airtel, IndusInd Bank, just to name a few.