Gurgaon has sprawled as one of the biggest shopping destinations in India. With major international labels showcasing their products in some of the biggest malls in India, Gurgaon is THE city to be a shopaholic. One of the latest additions to the shopping address is Vatika's Town Square, situated in Vatika India Next township, located in sector-82 near NH-8, Gurgaon.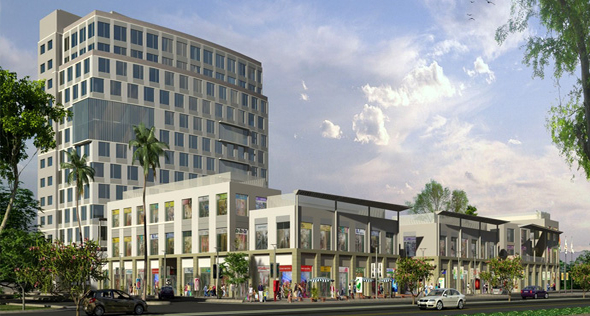 Town Square is being developed to be a buzzing shopping and entertainment destination for the shoppers in Vatika India Next, as well as the city of Gurgaon. With several major companies signing up to be a part of Vatika INXT, like HDFC Bank, Mother Dairy, Safal and Coriander Leaf, which will add to the convenience of its residents.
A commercial and retail hub, Town Square will cater to approximately 5 lakh residents (at its full capacity), as well as many visitors from outside the township. While, Tower A is ready for possession (except for Shop No. 1 and lifts), the rest of the towers, i.e., towers B, C and D are still undergoing finishing and construction work, which will also feature an underground parking space enough to accommodate over 400 cars, as well as drop-off areas.
Towers A, B and C of Town Square will have a cumulative retail space 10,000 sq. m. and will have Ground + 2 floors, while Tower D a stunningly designed 14 storey block which will be a mixed-use commercial space will have a total area of 16,500 sq. m. Towards the west side, the shopping complex will feature a distinctly designed tower – a landmark that will be visible from afar.
The commercial real estate has been designed to provide convenience and comfort of shopping as well as providing an avenue for businesses to reach as many customers as possible. The commercial blocks at Town Square are designed to meet the requirement of a growing business.
While providing opportunities to grow, the element of sustainability have also been given due importance. The different blocks within Town Square are interconnected by sheltered arcades with Independent VRV/ Split Units in each specialty retail unit, hence it help in reducing the maintenance and running charges, thereby making a positive contribution to the environment, the basic principle on which Vatika India Next township has been planned and developed.
This commercial and retail project will open doors to immense opportunities for businesses to grow and flourish, which will cater to an estimated population of 5 lakh residents. It is an ideal space for businesses like banking services, medical stores, boutiques, gyms, salons, and the many other services, as the shopping complex is meant to serve the population within Vatika India Next as well as many outside visitors.
To know more about Town Square, its construction updates and gallery, please visit us
http://www.vatikagroup.com/overview.aspx?hid=3&pid=44