Gurgaon has today become undoubtedly India's most expensive suburb with high-rises malls, multiplexes, apartments, luxury villas, MNCs, and could be on the same road as equivalent to Delhi.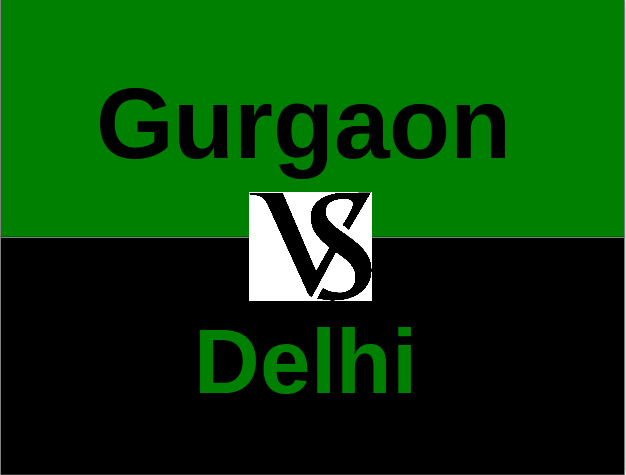 If focus is on location, Delhi is still the best bet, if you get any property within the centre of the city. However, in Delhi do not have too many high rises and most posh areas like South Extension, Greater Kailash, Vasant Kunj are already overcrowded with residential houses that there are no scope of new apartment buildings in these areas. On the other hand, in Gurgaon, you come across a wide variety of options to choose from. There are the small sized 2 BHK flats in Gurgaon to the large sized residential apartments, developed by well-known property developers. So, buying properties in the millennium city has the added advantage of choosing from a wide range of residential flats in Gurgaon, which is not the case in Delhi.
Current market prices are still on the higher side in Delhi, but may not be true for all locations. Gurgaon looks more promising when concerned with the property rates as compared to Delhi. Properties in Gurgaon also give a good value of return for investment. There are better living spaces in terms of open green spaces and parking spaces in Gurgaon as compared to Delhi.
However, Delhi has other benefits which Gurgaon lacks. Transportation is better in Delhi. There are better amenities and infrastructure in Delhi. It is the capital of the country and has better access to all cities surrounding it . Delhi has no doubt a better living standard compared to Gurgaon.
For investment purposes, there are many factors to consider like location, infrastructure and price, including risk propensity, expected returns, and time frame. Apartment prices in Gurgaon and New Gurgaon are showing an upward trend in recent years but is in no way equivalent to Delhi's soaring property rates in locations like Vasant Vihar, South Delhi, Golf Links, Jor Bagh, Sunder Nagar etc.
Gurgaon is fast catching up with the prime locations in the capital. In fact, property prices in the Golf Course Extension in Gurgaon, are close to those in some South Delhi localities. Gurgaon, which started as an industrial and IT hub about 2 decades ago, is now seen as the dream destination for investors looking for property returns.