A commercial space should be built such that it showcases the business while adding to its identity, the way it is run and help stand it apart from the rest of the competition. Vatika creates real estate infrastructure that make a good first impression for your business. These are well built structures synchronized with modern design, style and fittings. We offer business centers at various locations that are constructed with business parlance and provides the flexibility and freedom to create a business space that suits all business requirements. They are made vibrant with beautifully crafted interiors where people feel at ease and comfortable to work.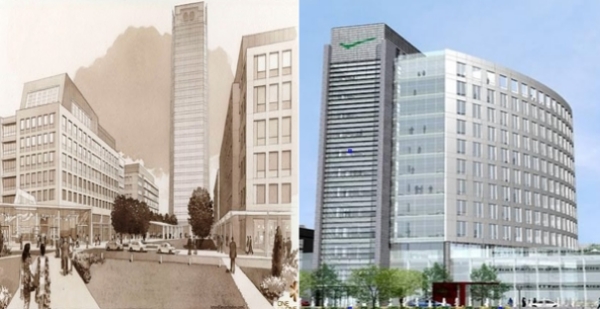 Vatika has several commercial real estates, each one making its own style statement. Our commercial spaces offers various businesses, from offices, retail shops and restaurants to add their own creativity that gives the business its unique identity. We offer businesses, be it a big MNC, startup or an entrepreneur, with the options to choose from our diverse portfolio, a commercial space depending on their needs and requirements.
One such commercial endeavor is Vatika's 'One On One' complex. It spreads across 13 acres and is located in the verdant part of sector-16 in Gurgaon. This commercial complex sits in the natural surroundings and is one of the most sought for business address in Gurgaon.
'Vatika City Point' is yet another marvelous commercial building that offers prime location for your business in Gurgaon. The ground and first floors of the building are meant for retail spaces and the upper stories are provisioned for offices. It offers sound business environment and provides an upper hand for your business in terms of location, as it is close to IFFCO Chowk and the Delhi international airport. Moreover, there are provisions for CCTVs, providing steadfast security 24/7. It also has an 11 kV power supply system and fire safety measures are well in place, to ensure uninterrupted power supply and safety. Fiber optic cables provide seamless broadband connectivity and V-SAT antennas and satellite dishes enables good communication and network. Vatika's commercial estates offers turnkey office and retail spaces that help businesses run optimally, without any friction.
We at Vatika Group strive to create business centres that are budding ground as well as nurturer for many businesses, big and small. Vatika Group believe in creating turn-key commercial infrastructure, where we help business grow and flourish. Some of our other commercial projects include Vatika Atrium, Vatika Towers and Vatika Triangle that offers businesses an opportunity to build themselves and grow.