Vatika Infotech City, a 600 acres* township provides an ideal setting for your dream home. It is one of the most well-developed community in Jaipur, sitting in a beautiful, open setting. A community where your life can be as beautiful as you want it to be. Infotech City comprises of several residential projects, from high-rise apartments, villas, duplexes to independent housing plots that are built to serve individual needs.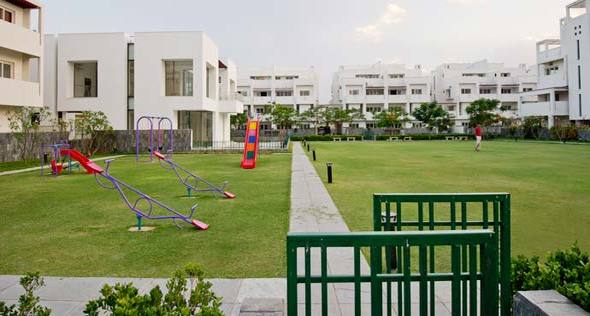 Infotech City is our magnum opus, which we have developed with the innovation and the creativity that we have garnered over decades of endeavours, and that will last for an eternity. Vatika Infotech City is designed as a self-sufficient and self-sustaining township, complete in every aspect, social as well as material infrastructure. So, whether it's schools or healthcare, playing fields or power back up, roads or restaurants, we ensure everything is available within the township at convenient distances.
Vatika Infotech City brings the 'New Urban' living concept to Jaipur – and you can choose from 2,350 individual plots to become a part of this community.
Independent Residential Plots
" Plots for independent minds… an opportunity to build your home of your choice. "
To build a 'Home of Your Dreams', Vatika Group presents an investment opportunity for long-lasting prosperity and joy at Vatika Infotech City, Jaipur. Independent plots at this exclusive township presents an exciting and unique opportunity to own a space of your own, while living a free and private life with all the benefits of integrated community living.
No pre-conceived apartment can ever compare with the home that you design around your lifestyle, where every room and detail of each space is crafted to bring it one step closer to your dream. That dream home, which fulfils all your aspirations without making any compromises, can be built only on an independent space. And yet, a space cannot exist in isolation. The most important aspect of a plot is its location.
Strategically located on the Jaipur – Ajmer Expressway and meticulously designed & planned by award winning Studio u+a, New York, Vatika Infotech City is one of the most coveted and prime addresses in Jaipur. Plot sizes vary from 130 sq. m. to 1,000 sq. m. and are available in various ratios of frontage to plot depth. All the plots are located on township streets at least 40 ft. wide, and plot owners get full access to the shared amenities of the township.