Founded in 1727 by Maharaja Sawai Jai Singh II, Jaipur today has made a remarkable progress in the real estate sector. The city has a population of around 3.1 million, along with an infrastructure good enough to handle it. One of the most popular hot spots for tourism in India, Jaipur is divided into 6 sectors by broad streets. A network of streets having grids further divides the urban quarters.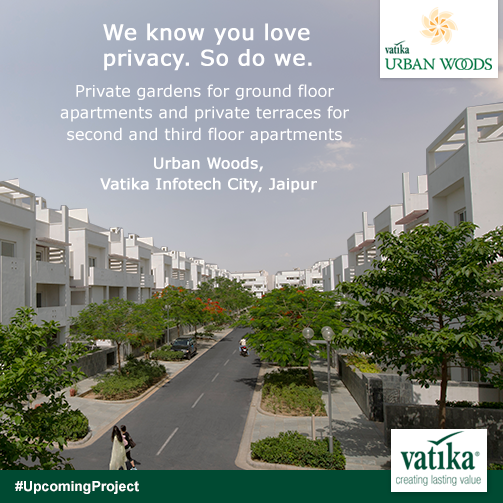 Residential plots in Jaipur-Ajmer Highway are currently a highlight in the state of Rajasthan. The highway offers better connectivity between the two cities. Skillfully designed, the townships on Jaipur-Ajmer highway are amply spacious and majestic in look. These include 2BHK, 3BHK and 4BHK flats, along with villas.

There are some really good reasons to own a residential property in Jaipur. Let us have a look at them:
Reasonably Stable Economy: The economic condition of a particular town or city affects all the people living in it, no matter what class they belong to. Be it a high-class businessman, middle-class employee or simply a person having a blue collar job with minimal wages. Among the 50 emerging global outsourcing cities, Jaipur was once ranked 31. The city houses software development centers of companies like Infosys and Genpact, along with several other industry zones such as those of textile and light engineering. The Special Economic Zone (SEZ) of Jaipur will be a major job provider, once the city gets fully developed. A residential property will certainly be a good investment, particularly for those seeking a stable job or intending to set up a business.
Tourism: If a place attracts lots of tourists, it ensures a fine flow of income to the hotels. Jaipur, being a major tourist spot in India, primarily due to its historical significance and heritage value, manages to have foreign visitors every year. These visitors prefer hotels for accommodation. With this particular factor considered, buying a property in Jaipur to establish a hotel or resort, is definitely a worthy investment.
Education: Some of the highly-reputed universities such as Amity University, University of Rajasthan, The LNM Institute of Information Technology and Jaipur National University have been established in the city of Jaipur. Having a property in this city gives an advantage to those who want their children to stay ahead in academics as a good course from a reputed university ensures excellent job opportunities.