The Seven Lamps by Vatika Group, "The Seven Lamps of Architecture" that will beckon the skies of Gurgaon as the mark of excellence. A landmark which will be visible from miles away, Seven Lamps is a residential high-rise, situated in sector-82, Gurgaon that will bring architectural innovation to the skyline of Gurgaon. It is one of the residential complexes located within the Vatika India Next, a 700 acres* township encompassing five premium residential complexes in one of the most sought after location in Gurgaon.
About Vatika INXT
Vatika India Next (INXT) is an endeavour by Vatika Group to bring back life's harmony, and INXT proffer exactly the same. One of the largest townships in Gurgaon, it is being developed in a lavish 700 acres* of land in one of the city's prime locations. The township will be home to over 1,00,000 people, who will experience an unsurpassed lifestyle that Gurgaon has never seen before.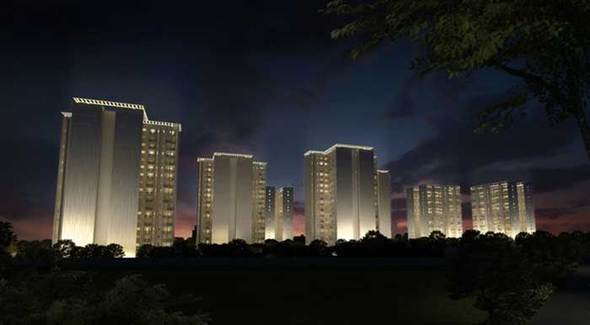 The Seven Lamps
THE SEVEN LAMPS is a high-rise residential development situated within the Vatika India Next township in Sector 82, Gurgaon. The residential high-rise draws its inspiration from 'The Seven Lamps of Architecture', an essay by John Ruskin on the basic tenets of good architecture; Sacrifice, Truth, Power, Beauty, Life, Memory and Obedience.
The gated high-rise community will have seven towers, each symbolizing the seven lamps of architecture. The towers will be a landmark visible from NH8. These seven towers will rise majestically from the midst of low-rise developments like seven powerful beacons, which will be the signature of Vatika Group on the skylines of Gurgaon.
About Seven Lamps
Seven Lamps consists of 7 towers (G+16), which is being developed in 11.9 acres* of land. It is located within the Vatika India Next township in sector 82, Gurgaon with close proximity to NH-8. This high-rise residential housing community offers 606 dwelling units with apartments sizes ranging from 907.62 sq fts to 4567.02 sq fts. It also provides the option to choose from various apartment configurations ranging from 1 BHK to 4 BHK and lavish penthouses with options for study* and servant room*.
A 24 meters road leads to the entrance of the gated community which opens to a grand plaza. The plaza offers convenient shopping location with free public access. Beyond the plaza lies the security gatehouse, which leads to a beautifully landscaped Arrival Court. Roads head off from the Arrival Court to the residential towers and the amenities. The Seven Lamps will be an architectural innovation where beauty meets functionality, and humans and nature exist in perfect harmony.
Seven Lamps – Features & Amenities
Apart from a world of features and amenities that Vatika INXT has to offer, the Seven Lamps is loaded with features and amenities that provide you with all the daily needs and requirements within convenient distances. Some of them include:
Essential Amenities
The Seven Lamps will be the epitome of convenient and hassle-free living. A shopping arcade of 8-10 shops right at the entrance plaza will ensure that all your daily needs
and requirements are at arm's length.
Community Retail, Multi-Purpose Hall, Basement Car Parking, Community Parks and Open Spaces, are just some of the essential amenities that Seven Lamps has to offer.
Recreational Facilities
A fully featured club will be the epicenter of recreational and social activities. A beautifully designed swimming pool area will have a pool side deck with kiosks and shelters with separate pools for adults and children. Overlooking the pool is a modern, well-equipped gymnasium.
The Club also offers a dedicated playroom for children. A yoga terrace that overlooks the pool proffers serene and calmness, rendering a holistic environment, which can also be used for other functions as well.
Located within the club is a large covered multi-purpose hall that offer space for community gathering, personal celebrations, and for organizing hobby classes like dancing, cooking etc.
Sports Facilities
The Seven Lamps has something to offer to everyone, be it a shopaholic or a sports fanatic. Three sports arenas; a fenced lawn tennis court, a badminton court and a skating rink, have been integrated within the landscaped green areas of the complex, giving its residents a taste of some action.
These three sporting arenas are in addition to a dedicated jogging track that threads the landscaped areas of the Seven Lamps.
For more information regarding The Seven Lamps' site plan, gallery, specifications and other projects in the Vatika INXT township, please visit us @ http://www.vatikainxt.com/seven-lamps.aspx