CLEAR MARKET LEADERS:
With over 36 million sq ft of residences delivered to 32,000 thousand customers, of which 45% became repeat customers after seeing their investments grow substantially*, Brand Vatika in over 25 years of its existence, has firmly established itself as a leading and reliable investment in the real estate market.
But this is not based on perception alone. What the market has felt about Vatika all along, is now reflected solidly in sales figures. Prop Equity data shows Vatika to be the leader, with 18.22% of all residential sales in New Gurgaon (April 2017-March 2018).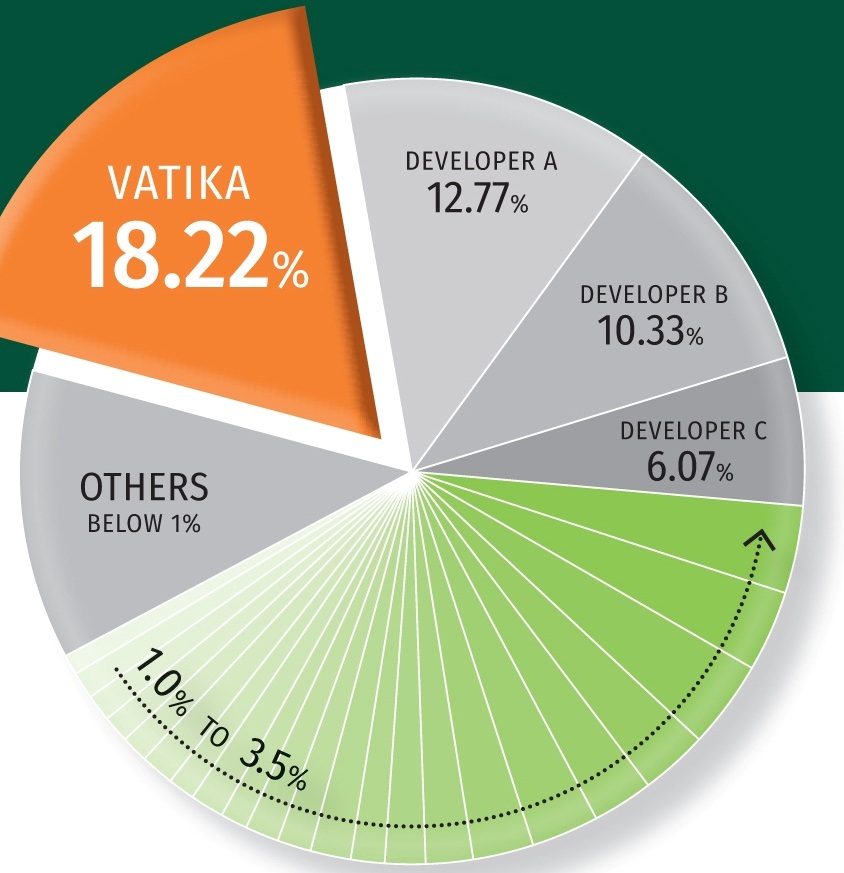 WHAT OF THE REST OF GURGAON? (And why it matters little):
The Gurgaon residential market is segmented into various areas, each with their own economic reality, of which all, except New Gurgaon, have been developed for the premium residential segment. As is expected, and representative of the current market scenario, sales in these areas have stagnated.
In contrast the New Gurgaon economic micro market has only 5-8% dwelling units representing the premium category, with a top-end price of 2.5 crores per unit. The balance dwelling units fall in the 70-140 lakh price bracket, and represent the vibrant mid-segment of the market. In fact, this is the only mid-segment market in the entire larger Gurgaon area – and is where the future lies!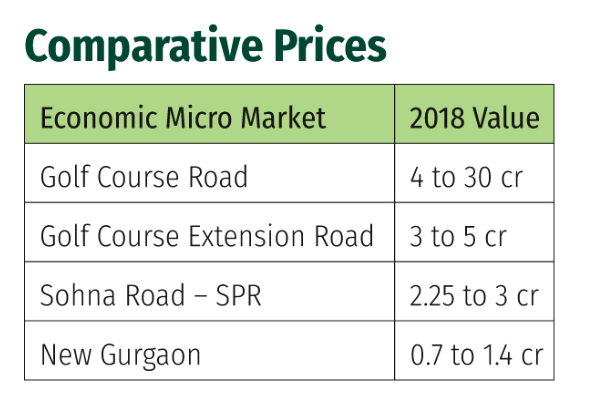 Residential Sales in New Gurgaon
Figures can be used in any manner to represent advantage, but keeping with the Vatika philosophy of transparency, it is important to provide proper context here – 'New Gurgaon' as per Prop Equity data covers Sector 81 to 98, Wazirpur and Pataudi Road. According to their data the figures show Vatika with an incredible 47% of market share in the 2017-18 FY!
However, in the pie chart above we choose to go with the Haryana government definition of New Gurgaon – as a larger area covering Sectors 81 to 115(as well as Wazirpur, Pataudi Road and Sector 36 and 37).
INXT: Numbers that spell success
Fully integrated township on 570 acres
9 residential projects, with a total of 8421 number of units, covering 13 mn sq ft
2010 Plots of 602,645 sqm
10 + 2 Retail Projects with 760 retail units
Inhabited with 4500+ families
Started 2010. Less than 7 years to full potential
WATCH OUT FOR INXT2
After the success of INXT, Vatika is set to take the idea further with another integrated township – INXT2, spread over 224 acres. The already-proven concept will be further enhanced in this project that is being created in Sectors 88A, 88B and 89A.