Amenities, Features & Facilities at Vatika India Next
Vatika India Next (INXT) is an upcoming residential project by Vatika Group in Gurgaon. It spreads across several sectors along NH-8 highway in Gurgaon. With development area that spans in 700 acres*, which in itself is a figure that needs no boasting. It is one of the biggest townships in Gurgaon that has made waves in the real estate industry. A township that everyone is eyeing, as it has some of the best features, amenities and homes offered at prices that you cannot refuse.
Vatika INXT comprises of several types of housing complexes, from posh villas to stupendous high-rises and condos. Vatika India Next has been designed and developed keeping in mind the most basic needs of its inhabitants, so that anything and everything is within the reach of everyone. These residential units have been designed by some of the most experienced architects and designers, whose years of endeavors and cognizance in designing has been brought on the table, which makes use of every inch of space to make your life convenient and hassle-free.
Apart from residential spaces that are up for grabs in the Vatika INXT township, it also offers commercial and retail spaces within the 700 acres*, alongwith spaces for educational institutes, healthcare, recreation and much more. Below are some of the features, amenities and facilities at Vatika INXT that will whet your desire of owning a home with us.
Education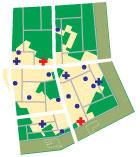 Vatika has made provision to allocate 35 acres* of land for the development of its educational institutes. To help mold the budding minds of the next generation, Vatika INXT has planned to build over 30 schools within the township. These schools will include around 4 High schools (marked in red), 11 primary schools (marked in blue), 16 nursery schools and 5 creches/day care centres will cater to the educational needs of its young residents.
MatriKiran School
MatriKiran is the first senior school to become operational in Vatika INXT. Matrikiran is an english medium, co-educational school managed by the Auro Education Society, the educational arm of Vatika Group with classes from pre-nursery to 12th grade.
Integral Education
Inspired by the philosophy and practice of education system for the holistic development of a child set forth by Sri Aurobindo and the Mother, with contributions from some of the well renowned scholars of India, MatriKiran strives to help children develop as a whole, physically, mentally, psychic and spiritually through a learning system which encourages exploration and discovery.
Senior & Primary Wings
The school is spread over two locations across 8 acres* of land, with its primary wing with an area of 2 acres* located on Sohna road, Gurgaon, and the senior wing located in sector-83 within the township across an area of 6 acres*.
Academics
The academic session for the primary wing (pre-nursery through 5th grade) commenced from 4th April, 2011, whereas the construction of the senior wing started in the year 2012. With the vision to create a premiere educational institute, MatriKiran will have every facility required to enhance a child's learning experience, from extensive libraries, labs for math, science, computer, robotics, music rooms, a gymnasium, a metal workshop, playing grounds, sports arenas and a meditation/yoga room, and of course, the best possible education standards.
So far we have discussed the features, facilities and amenities at the educational institutes in Vatika India Next township. In the next blog we will explore some of the other features, like healthcare, connectivity, recreation etc. that Vatika India Next has to offer. For more information regarding the features and facilities and the type of residential housing and commercial/retail complexes available in the INXT township, please visit the website @ www.vatikainxt.com