About Vatika Infotech City
Vatika Infotech City is a self-contained unit, designed by the award winning Studio u+a, New York. Infotech City embodies a classic fusion of retro-inspired and modern architectural design. A lavish 600 acres township near Ajmer Expressway in Jaipur, it is one the largest townships in India.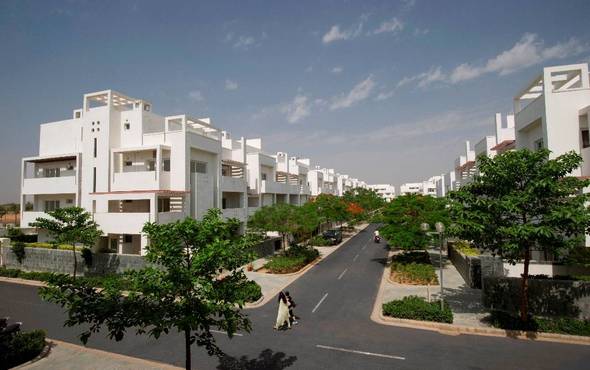 Vatika Infotech City is the first developer in India to introduce the concept of "New Urbanism", which encompasses the principles of Traditional Neighborhood Design (TND) and Transit-Oriented Development (TOD). This concept emphasizes on providing self-sustaining & eco-friendly, growth and development of real estate, urban planning and land-use.
It provides a smart and intelligent perspective for urban development, for example pedestrian-friendly road network, intelligent development of open spaces, context-appropriate architecture etc. Vatika Infotech City has incorporated these principles in its basic design layout, hence building a cleaner and greener India, for you and your family.
Project Features – Vatika Infotech City
Spread over 600 acres, Vatika Infotech City is the largest residential township on Jaipur – Ajmer Expressway
Will be home to about 40,500 proud residents in 9,000 housing units
Thoughtfully planned and conveniently located – retail, hotels, commercial, recreational, entertainment, education and healthcare facilities
The new Jaipur Metro Line coming up just 9-10 kms away from the Infotech City township, the residents will soon be able to enjoy the convenience and comfort of one of the most modern transit systems
The township has a well planned internal road network, and in proximity with the Jaipur-Ajmer expressway, providing connectivity with Jaipur city
Within the township, all periphery roads connecting the projects are 24m wide
Facilities in Vatika Infotech City
Infotech City also has several facilities and amenities to offer, like shopping arcades, hospitals, educational institutes at convenient distances from your home. 24/7 security at all entrances, CCTV secured premises, street-lights etc.  We ensure that your family feels safe and secured. We also make sure that you stay connected with the rest of the world; by internal and external road networks, and metro rail connectivity.
Jaipur Metro Rail's construction is underway, and trial runs were lately held in the month of September, 2013. It will be a boon for the proud citizens of Jaipur, and also provide convenience and comfort of commuting for residents of Vatika Infotech City as it is just 9-10 kms away.
A Place That Lives
Vatika Infotech City has many features and facilities that enhances the living experience, and offers even more. With a new and revolutionary urban design concept, it renders an ecosystem which is eco-friendly and self-sustainable, which truly makes Vatika Infotech City, A Place that Lives & Breathes.
For booking & Latest Construction Updates
Our easy and hassle-free booking options with various modes of payment gives you the freedom and the convenience to book a home with us, at an affordable price.