In recent times, many real estate complexes are coming up in the vicinity of metro cities. The cities are planned around major commercial centres, with residential properties coming up around them, considering the space constraint and overcrowding of inner city areas. The complexes, though, are located at places away from the heart of metro cities, but they are well connected by linked roads and metro rails. Such establishments are developed to provide all the modern facilities at one place, and they serve in a great way to help people live a comfortable life.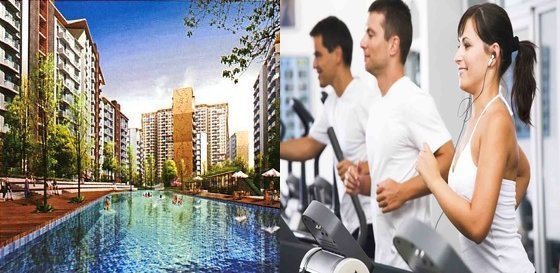 Their campuses comprises of wide-open areas that are planned and designed to build spacious apartments, office spaces, academic blocks and other facilities.
Most of the residential real estates by Vatika Group include special entertainment and recreational zones within the confines of the housing complexes itself. Provision for these facilities vary from project to project, some of the facilities Vatika offer are swimming pool, gym, sports arena, lobby and theme based multi-purpose room. For example, the Sovereign Next in Gurgaon is a 7.5 acres community and has its own swimming pool, clubhouse and landscaped lawns. The Vatika City located on Sohna Road is a 37 acres complex and offers a gymnasium, swimming pool, restaurant and community hall. So, every residential project by Vatika Group is developed to enhance the living experience, with architectural design that is inspirational, and are beautifully built. Every Vatika residential real estate is complete in itself and the facilities are provided based on the theme of the design.
Vatika Group makes every effort to render a unique theme for each of its real estate project. Our team of designers, interior designers and architects makes sure that each structures has an identity of its own, developed with innovation and technology, while creating lasting value. Latest technologies, like solar control glass, water harvesting & security systems etc. are used to ensure that every wall we erect is sturdy and built to perfection.
The services and facilities offered varies between residential projects. Vatika's residential complexes has something to offer for everyone. The needs and requirements, from multipurpose rooms, gyms, to swimming pools are given special importance. You can choose the size, the placement and other features of these building units and facilities. The group has several townships in Gurgaon, Jaipur and Ambala, and every complex has its own unique features and facilities to offer. So, based on a your requirements and choices, an apartment is waiting for you at Vatika.
When it comes to making a good investment, spaces by Vatika Group makes your choice easier. A name that is synonymous with innovation and prestige.