Buying your dream home in a place like Gurgaon cannot be an instant decision. The decision has to be taken after doing serious planning and research. At times, buyers get confused as to whether they should opt for ready to move flats in Gurgaon offered by property developers or should go for under construction flats. The real estate property in Gurgaon is spurring with various options starting from ready-made flats to villas to residential houses to plots to ready to move floors or 3 bhk or 4 bhk flats in Gurgaon . Under such circumstances, it becomes a great problem for the buyer to make a decision. For those who are stuck in this confusion, here is a small comparison between ready to move in flats and under construction flats.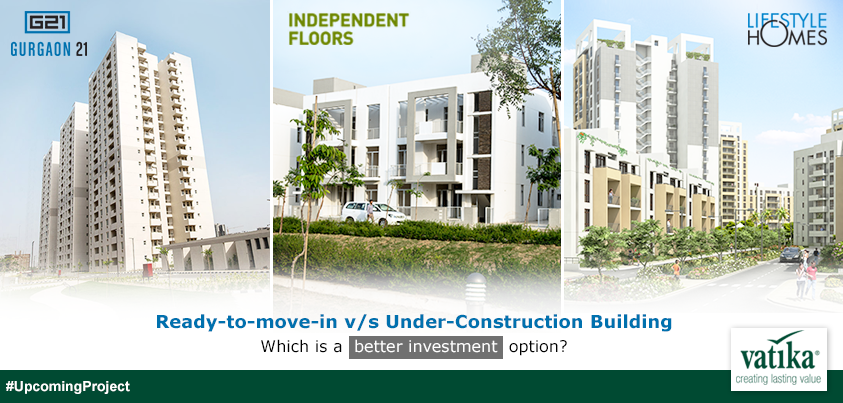 It is said that if you are making your first property investment, ready to move-in flats are a perfect choice. This will help to save your rentals. There is no risk factor involved in delays and hassles as you will get a ready accommodation. But the disadvantage here is that the price of this property is very high in comparison to the construction and time plans. On the other hand, property developers offer different plans to buyers in case of under construction flats depending on the affordability and requirement of the buyer. The rate of return on such flats is high because they are affordable as compared to the ready to move-in ones. This is perfect for home buyers who want to purchase their second home. The major disadvantages of such a project are price escalations, delays, changes from the planned layout, etc. Also home buyers who opt for under-construction flats also have to spend money both, for the new house as well for their rental accommodation.
Nowadays, the customers are very smart and they invest in projects that are safe and productive. Before making the final call, they make thorough checks on the realty firms. They properly inspect the developers' past projects. While they opt for ready to move in flats, they may even settle down for under construction projects if they are satisfied with the credibility of the developer along with the promised quality and facilities of the project. But then again, considering the present market dynamics, ready-to-move flats are certainly a preferred choice for both the risk-averse and those in a hurry.