Vatika Infotech City is situated in the beautiful city of Jaipur. The township has been developed in a lavish 600 acres of land, amidst the picturesque beauty of nature. It comprises of several independent residential projects that are built to serve individual needs, from high-rise apartments to independent plots.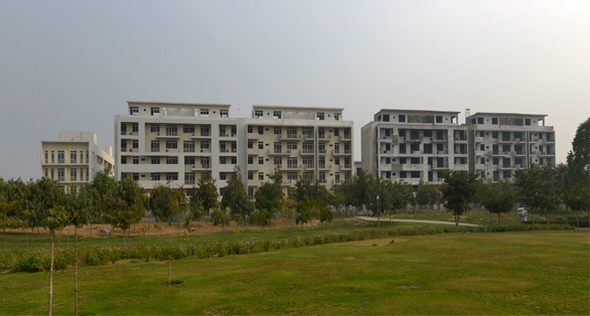 Infotech City is our magnum opus, which we have developed with the innovation and the creativity that we have garnered over decades of endeavours that will last for an eternity. The Park Apartments is one of the 5 residential projects that Infotech City has to offer.
The Park Apartments offer the lively atmosphere and the view of the beautifully landscaped Central Park, surrounded by the beauty of nature. Waking up everyday to the
scenic view of the central park takes you to the inner sanctum, adrift in serenity and tranquility.
The Park Apartments
Nestled across 22 acres of tranquil greens in Vatika Infotech City, the Park Apartments are built in a spectacular 6.53 acres area and are the first of its kind in Jaipur. The residential housing complex overlooking the Central Park has 508 upscale and well-planned apartments that are built at par with international standards of craftsmanship with premium amenities.
" Surrounding the 22 acres park, central park apartments create a serene atmosphere for a peaceful living. "
Designed by Studio u+a of New York, in association with Spazzio, this ingenious and innovative architectural mix of low, and mid-rise buildings harmoniously extends along the full length of Vatika Infotech City's Central Park. Joining the three distinct housing elements is a common garden, a tranquil inner sanctum, and an outdoor room for the community.
The Park Apartments will truly offer a one-of-a-kind living experience epitomizing serenity, harmony, and simplicity. These residences will truly connect you with a healthy lifestyle.